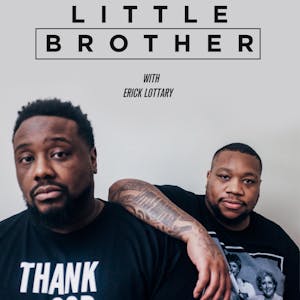 presented by Aspire Presents
LITTLE BROTHER
Erik Lottary
Neighborhood Theatre
$30.00 - $50.00
Postponed
LITTLE BROTHER w/Erik Lottary
18+ Valid ID required for entry into venue / $3 Under 21 Surcharge at Door - Accepted forms of ID: State Issued ID or Driver's License, Military ID, Passport.
LITTLE BROTHER (Phonte of Foreign Exchange + Rapper Big Pooh)
Little Brother is an American hip hop duo from Durham, North Carolina that consists of rappers Phonte and Big Pooh. DJ/Producer 9th Wonder was an original member of the group but departed in 2007. The group has produced five acclaimed studio albums and six mixtapes.
- Phonte -
Grammy-nominated rapper/singer/songwriter/producer Phonte Coleman was raised in Greensboro, NC.
Phonte got his musical start by singing in his grandmother's church choir and making beats on a Gemini sampler in high school. After entering North Carolina Central University in 1997, Phonte met future bandmates Thomas Jones (Big Pooh) and Patrick Douthit (9th Wonder) and formed the group Little Brother in 2001. The group released four critically acclaimed albums before finally disbanding in early 2010. Afterwards, Phonte focused his career on singing, songwriting, and producing with longtime Foreign Exchange partner Nicolay.
- Big Pooh -
In the early 2000s, when Pooh and fellow North Carolina Central University students 9th Wonder and Phonte came together as the critically acclaimed group Little Brother, Pooh had never considered a career as an artist. Sure, music had been a part of his life as long as he could remember. And by the time he was in high school, he had evolved from finding peace in the music of others to wanting to create his own, even flexing his early lyrical muscle as a poet. But a career in music had never really entered his mind. And then it happened.
"Being a fan of my music is suggestive," says Pooh explaining his approach to personal branding. "But respect is undeniable. That's why it's important for me to connect to people beyond the music. Because at when it's all said and done, you will walk away from me knowing that my work ethic is unmatched. And you can't help but to respect that."
*Rapper Big Pooh has worked with Drake, Kendrick Lamar, Kanye West, and Lil Wayne amongst others.
ERIK LOTTARY
A storyteller by nature, Erick Lottary's lyricism could pen the next great Hip-Hop odyssey. Pulling inspiration from everyday life, Erick spits tales about overcoming hardships, striving for his family, and shattering societal expectation. His emphasis is placed on making a connection. Every word laced with intention, for his sound is the perfect blend of book smart meets street smart, giving you hard hitting lyrics mixed with a southern grit. Erick Lottary's ability to inspire action through the tales he musically webs, makes him both relatable and memorable. An ideal artist to reign in a new age of self-made hustlers.

Venue Information:
Neighborhood Theatre
511 East 36th Street
Charlotte, NC, 28205